Niezależni Eksperci Majątkowi S.A.
Niezależni Eksperci Majątkowi Ltd. has been founded in 1996 in order to perform expertise activity, render services of consulting in scope of economics, finance, insurance, liquidation of damages and running training programs.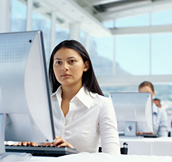 Our staff includes experienced engineers, economists, lawyers, analysts, who mastered proper professional knowledge and are chartered in their specialism. This makes our staff able to cope with even most complicated orders and give evidence of successful organization and maximal effectiveness.
We are able to offer complex services: business valuation, real estate appraisal, valuation of other fixed assets including machinery, equipment and intangible assets, elaboration of: financial analyses, business plans, energy performance certificates for buildings, performing energy audit, liquidation of damages caused on insured assets, financial analysis of enterprises with regard to business interruption policy and other insurance products, analysis for making business decisions (occurring during privatization, establishing joint-ventures, mergers, raising capital by issuance of shares or bonds and other debt securities) and trainings for aspirants for authorization for thermomodernization and energy auditing.
In the recent years two new companies has been founded, which are connected with the NEM Ltd by the main shareholders. Those are: Niezależni Eksperci Majątkowi S.K.A. (limited partnership by shares) and Niezależni Eksperci Majątkowi S. A. Sp. k. (limited partnership of NEM Ltd.). The basis for this strategic reorganization is the will to render better quality of services and optimization of tax obligations.
Niezależni Eksperci Majątkowi SA Sp. k. is particularly involved in such projects as: liquidation of damages on insured assets and running trainings. The task of expert groups of Niezależni Eksperci Majątkowi SA S.K.A are: elaborating the valuation sheets, analysis and running energy audits.
Our core competence is project valuation analysis on behalf of our clients, based on objective data analysis. Lack of direct capital association between NEM and the clients allows us to make independent recommendation. Some of them can even lead to make the client quit his 'favorite' project.