I

nitial

P

ublic

O

ffering
Initial Public Offering is a form of first time issue of company's shares on the market.
The main task of IPO is a proper placement of offer and getting highest price for portfolio of stocks offered by current shareholders. Our familiarity with investment funds activity, characteristics of investors, especially their risk aversion and knowledge about their contingency to invest in certain projects are the most valuable asset we offer our clients.
Proper preparation of offer by NEM, allows the client to focus on operations management and efficient sell of stocks. Our range of services include: elaborating the prospectus, advisory and representing the client towards state institutions such as Financial Supervision Authority, the National Depository for Securities, Warsaw Stock of Exchange and others.
Public offer is a proposal to sale certain securities addressed to at least 100 investors or unlimited group of receivers.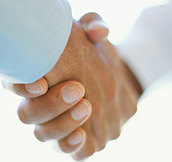 Our offer includes:
Performing financial and legal audit of the company
Acquiring investors by preparing public offer
Elaborating prospectus
Financial Analyses
Preparing forecasts
Consulting the cooperation with chosen brokerage office